My tuppenceworth is back, on Wednesday 15th November upstairs at Whispers 5 High St, Purley.
Held as part of our regular #ThirdWednesday drinks, we hold these in association with Dick Delingpole's #ThirdWednesday Libertarian drinks club, and POLITICS in PUBS a group of people from across the political spectrum who value the freedom to question and to speak openly.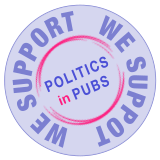 You are the star!
This is your opportunity to speak to those assembled on an issue that really matters to you and give your tuppenceworth. Each speaker will have up to 5 minutes to speak about an issue dear to their heart, followed by a short Q&A.
We ask all speeches are non-partisan and remind you the laws of slander still apply!
Come prepared or do off the cuff, this is your opportunity to exercise some free speech.
If you do have notes, we can publish to increase the reach of your ideas as we have done for our events in 2022 and 2019.
If you would like to speak, please let us know by emailing [email protected].
Join us Upstairs, Whispers, 5 High St, Purley CR8 2AF on Wednesday 15th November, from 7pm.
You can also find this as a Facebook event at https://fb.me/e/1FpY4zTjG