By Mike Swadling
One of the many things that surprised me during the Brexit campaign was the extent to which old political divisions were rearranged and formed into new constitutional and cultural groupings. I had always enjoyed listening to Claire, now Baroness Fox on the Moral Maze, and in various TV appearances, but I had never expected to find myself agreeing with her as much as I have over the last 6 years.
Aside from being sound on Brexit, Claire Fox is the director of the Academy of Ideas. Alastair Donald, the Associate Director of the Academy spoke at our first My Tuppenceworth event about the risks to freedom from identity politics, and also appeared on our Podcast. The Academy "has been committed to organising free and open public debates for over 20 years", and one of these debates is the Battle of Ideas.
The Battle of Ideas or #BattleFest as it's known on social media holds events around Europe and the UK with major events in Buxton and London. I attended the Sunday of the London event in mid-October, and frankly can't wait to go back.
The format of the day was set around panels of 4-6 people discussing topics such as 'Age of 'ISMS': What happened to ideology?', 'Climate Emergency: Catastrophe or Catastrophising?' and 'How do we solve the housing crisis?', with a scattering of lectures thrown in. Up to 10 panels are run concurrently and for the most popular sessions you need to arrive early. In addition around the main conference hall were a series of stalls from among others, the Free Speech Union, and the Reform Party.
I picked my choices for sessions to attend based on a mixture of the topic and those on the panels, taking advantage of the opportunity to see Rod Liddle, Shaun Bailey, and Christopher Snowdon. The day also afforded the opportunity to catch-up with a few people I know. The panel discussions felt fairly informal, with a mix of views across the panellists. Even where they differed the conversations were polite and mostly very friendly. Audience participation was a major part of the day with plenty of time for people to ask questions. As someone who has run Q&As from a large crowd it was a fascination for me to see the mastery with which the panel chair's managed to generally keep questions as questions, rather than speeches, and move the discussion along.
The crowds were largely what regular readers of this website might call sound, and of a cultural libertarian bent, although a range of views were present. Given the views of most attendees a special congratulations need to go to the panellists who, so rarely for today, came willing to speak to a crowd who weren't on side.
My personal favourite session was on housing, where frankly I haven't made up my mind on how we meet the desires of local communities to keep their character, verses how we build the new houses we need. Hearing from an architect on the panel how building well designed attractive houses generally overcomes local planning objections was especially interesting and rang true in my local area. In the suburban area I live, the objections to new houses are far lower than the objections to yet more flats.
An all-round great event with lots you can agree with, some things to challenge you, and lots to make you think. Checkout their website for upcoming events. I look forward to attending both days in London next year.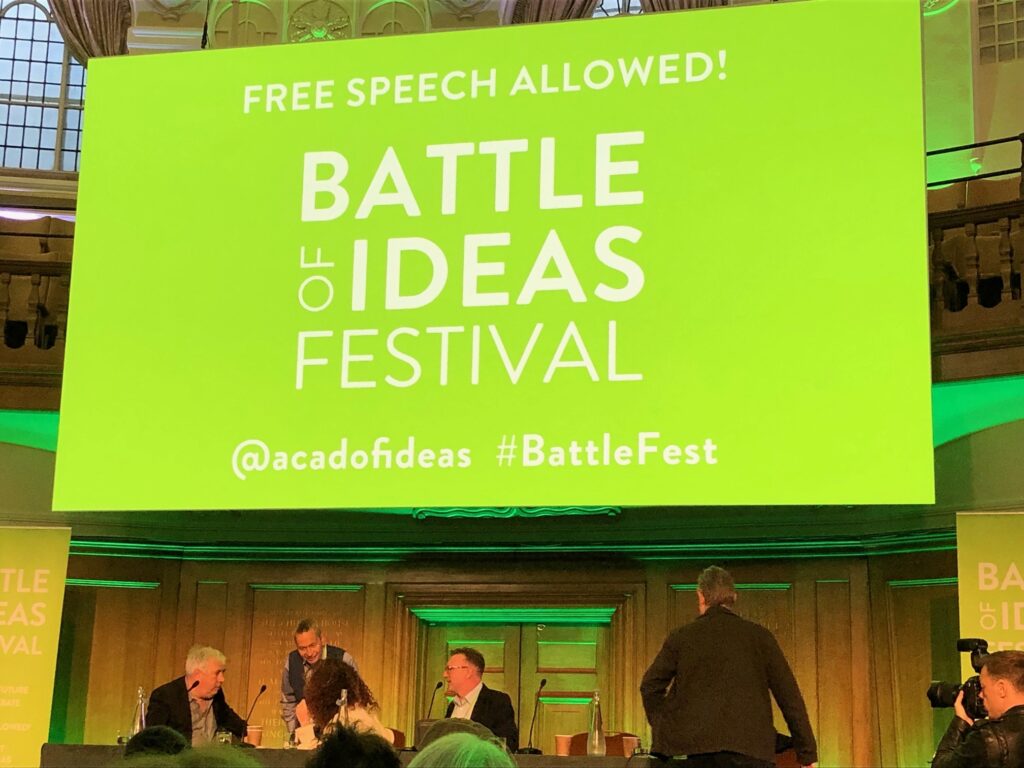 Video's from the day can be found at https://www.youtube.com/playlist?list=PLUJGOCM8cUJnVjZwlSACrNQUrO14O41lJ