It is we great pleasure we interviewed the Libertarian Party's Sean Finch.
Sean is an avid free-speech advocate and was the party's candidate in the Lewisham East By-Election. Sean also took part in our Debate for Democracy in April, and represents a party that stands for lower taxes for both individuals and companies, small government, free speech and individual responsibility. They support a withdrawal from the European Union and a return to the free trade agreements that it was founded on.
Sean thank-you for the interview.
What got you into politics?
I've always had a passing interest in politics. When in school, my favourite subjects were History and Business Studies. Then once in sixth form college, I continued to study History but also Government & Politics, and Law. However, I never once imagined, nor desired, to ever become a political candidate or even involve myself in any political party. There was even some period of my life where I was apolitical and would only vote if convenient. My only ambition was to own a pub, be a firefighter and have a family, never did I want to be actively political. It's seeing how morally degenerating society has become, I see it as a civil duty to attempt to change this declining society.
It truly wasn't until the day after the 2016 Referendum when I recalled the reaction and appalling behaviour displayed by Remain voters. I was shocked by the result myself but being a believer in democratic results, I respected the decision. Little did I know, this would be the start of a political journey and begun my departure from left wing politics.
When discussing with friends who I believed like me respected democracy, I was bewildered by their refusal to accept the reality of the result. These Individuals being supporters of parties such as LibDems, Greens and Labour, parties which I had once supported and claim to apparently be for democracy, did not accept reality. The referendum revealed those who believe in liberty & democracy, and those who do not. This was a sobering moment, and due to my natural mind set to respect the electorate, I was ostracised from many circle of friends. It is a bitter irony to think that those mentioned party supporters are all for diversity, unless it's the nuance of diversity of thought and critical thinking.
What campaigns have you been involved in?
At this time, I have personally been a candidate in 3 election campaigns, but have also assisted in other election campaigns. My first ever experience at canvassing was for a former friend in 2008 in East Dulwich for local councillor for the Liberal Democrats, by which she was successful elected.
Two years after the 2016 Referendum, I finally had enough of the current establishment political class; those in Westminster, Whitehall, mainstream media, as well as those in the EU, undermining the biggest democratic action in UK history. I reluctantly involved myself in the cesspool of active politics. I began to try find a political party to call home, as since 2016 had become absolutely apolitical due to Parliament unwilling to implement Brexit and listen to the public. In my mind, what was the point of ever voting again? I started to seek a party which would represent a majority of my personal values. If I could not find one, I would create my own. Eventually, after a long search of most the English parties, I found the Libertarian Party. I didn't really know what libertarianism was at the time, apart recalling reading a very short (and I believe purposely) vague paragraph from my Government & Politics exercise book. Having read the Parties policies, constitution and researching online the party and ideology, I signed up and haven't looked back since. My first personal campaign was for councillor in the London Local Elections 2018 in an Orpington ward (Cray Valley West) where I had almost no idea what to do. I knew I was not going to win, due to both being inexperienced, and introducing a new party to the area. Although I had a secret aim to gain 100 votes, but gained 60.
My next election test was immediately after the London Local Elections, where I was suddenly entered into a Parliamentary by-election for Lewisham East constituency. Having been born & raised in Lewisham, I knew the people and area very well. In a borough which is still to this day totally dominated by Labour (every Cllr, both MPs, an Executive mayor, and the Mayor of London all Labour), libertarianism was not going to gain any traction. However, it would still be an opportunity to gain publicity for Libertarian Party and build experience and my profile. This by-election was again a sobering moment and felt odd on just how intolerant (mostly) left wing parties are towards a party which seeks personal liberty & freedom via less State control and less taxation. In the past, this type of thinking was seen as basic principal for liberal thinking, but apparently no longer.
The last election I was in was the recent Kent Local Elections, where having now some reasonably experience, gained 7% of the vote. Taken, I believe, mostly from the Conservative vote share. Immediately after, many Tories attempted to recruit me, but I continuously refused. In my town I have now effectively become a one man pressure group to the highly dominate Conservative council.
What do you think is next for Brexit?
In my opinion, Brexit has already occurred. We left on 29th March 2019. There has been no repeal to the Withdrawal Act, a new Act of Parliament to countermand the Withdrawal Act, or any EU law to supersede the Withdrawal Act. Yet Parliament have not acknowledged this reality. Brexit is now beyond simply leaving the EU. It is about both our democracy and has highlighted we have a constitutional crisis, and in fact have very little protection from the State. As pessimistic as it may sound, this is actually another positive of referendums. The Magna Carta guaranteed we would have a representative democracy in exchange to end the chaos of the English Civil War, and this has been the case for hundreds of years up until 2016. By Parliament ignoring the Referendum result, it has broken this sacred contract. Now our uncodified UK constitution is as follows: "Parliament is sovereign". In other words; Parliament can do as it likes, even to ignore the Rule of Law.
I believe the question isn't when is Brexit, as it's already occurred, but when will it be acknowledged and when will Westminster, Whitehall and the EU concede defeat. If these two points are not recognised by 31st October, sweeping changes will occur throughout the nation via the vehicle of the Brexit Party. Ironically, for these London institutions to hold onto power, it would be far wiser to respect the 2016 result and leave the EU, then campaign to re-join after, than to force a re-do of 2016 and therefore risk massive change.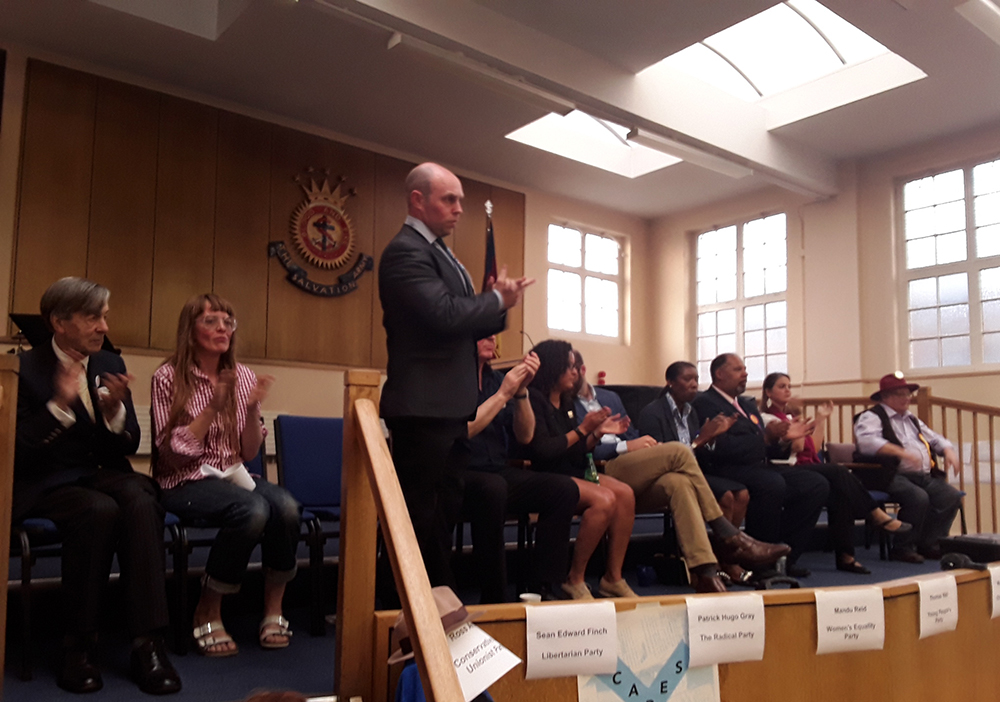 Any interesting or fun stories from the campaign trail?
The obvious story to stand out was the Lewisham East by-election 2018. I was born & raised in Lewisham nearly all my life but never consciously realised the corruption on my former doorstep. What was revealing was the almost never-ending scandal of the entire campaign from Labour. Labour candidates were caught up with old anti-Semitic quotes, sexist discrimination against men in their selection process (Joe Droby), and being seen with controversial individuals. However, the most noted scandal was during the one and only hustings held in Catford. Anne-Marie Waters of the For Britain Party was also standing, which gave the Labour controlled group "Stand Up To Racism" an excuse to be violent towards ANY candidate or member of the public who was not a Labour supporter, despite Waters not even attending the hustings. The eventual Labour candidate (Janet Daby) chose not to show in solidarity against Waters, which to me showed she could not debate and I questioned therefore how effective she could possibly be to the people of Lewisham East as an MP if she would not talk with someone simply because of a person's differing views. The Green and Conservative party candidates also didn't attend. When I arrived outside the event, a gauntlet of hate was awaiting in the alleyway entrance to the building. Labour supporters (which is well documented) were extremely aggressive towards all people (candidate or public) who wanted to attend the hustings debate, using violence and intimidation. It's ironic to think that the very reason why these Labour supporters were protesting; to stop the supposedly fascist For Britain Party candidate Ann-Marie Waters (who herself didn't even attend in fear of safety) used fascistic tactics to close a liberal democratic debate. Fortunately, the UKIP candidate Dave Kurten coincidentally arrived with me, a very tall individual, so unintentionally acted as a shield to deflect any drinks or spit. Once I had managed to enter the building via the gauntlet, which had a familiar connection to 1984's "two minutes of hate" (but only longer), I had fittingly given a speech on how our civil liberties such as freedom of speech are being slowly eroded, the police closed the event due to the chaotic appalling behaviour from protesters. My point was vindicated.
I suggested to the remaining candidates to continue the hustings in the nearby Whetherspoons pub in order for the public to ask us questions, but only myself, Democrats & Veterans, UKIP and the Monster Raving Loony candidates joined. On a side note, Howling Laud Hope (leader of Monster Raving Loony Party), despite the appearance, is one of the wisest men I've ever met and was a great pleasure to hang around.
Despite of these events, the Labour candidate still won the seat with minimal effort. This again highlights just how broken our First Past the Post (FPTP) system is. Although some would say it still accounts for individualism of the candidate (which I do slightly agree) unlike Proportional Representation where you are voting for the party, this example alone defeats the argument. Labour went through 2 other candidates caught up in scandal before choosing Daby. With FPTP, you are still always voting for party brand like PR, not on Individualism.
What surprised you most about getting actively involved in politics?
The broken degenerating society we currently live in. The polarisation of friends. Friends whom I had even helped to become elected. I, even now, have always been welcoming & respectful of people's opinions. I naturally assumed so was everyone else, bit this is not the case. I always knew not everyone would share the same views, that's life. However, when I told some friends (LibDems, Greens, Labour) I had joined a very little known party which wasn't mainstream, they're was banishment despite years of friendships.
If you introduce or repeal 3 laws (other than for Brexit) what would they be?
Almost every tax law.
I would advocate for an amendment on how the NHS is managed. In my opinion, you cannot save the NHS by throwing money at it. I believe it is a management in people in usage. I would instead give a choice to those who wish to opt-out of the NHS in order to relieve the demand for it.
Repeal the Terrorism Act. The State have been using this act to detain obvious non-terrorist suspects due to being an inconvenience to the State, therefore denying individuals to their natural rights. This has always been a worry when passing an act such as this one.
Amend gun laws to allow pepper spray to be legal. Especially so women can use it to at least defend themselves due to our ever growing crime rate.
What do you see as your parties route to electoral success?
I've never had any illusions that there will be Libertarian Party MPs under FPTP. At least, not for a very long time. Perhaps there is chance of Cllrs (which we have had) in some rare circumstances, but as mentioned above; even in Local Elections, people mostly vote based on party brand label. This can be seen in my recent local election campaign where despite me being the only person to canvass and speak in pubs, I did achieve 7% of vote but no seat. The same parties were voted in. Instead I've always seen the Libertarian Party as a pressure group to not just the Tories but to all parties, to return to our basic civil liberties and economic freedoms. Too long has the State stepped over its boundaries, and yet because some of us have always known this to be the norm within our lifetimes, it is actually abnormal in the greater scheme of time. The State should not be involving itself in our everyday lives. I see the party as an obvious vehicle to spread the ideology of libertarianism. When I was studying Government & Politics, libertarianism was but a footnote, it simply isn't discussed. Across the pond in the USA, libertarianism is a household name due to the efforts from individuals such as Ron and Rand Paul. The ever-growing US Libertarian Party is now the 3rd biggest party. This is where I want to see the UK Libertarian Party but further. There is a nobility in just knowing that by planting the seed, although you may never see the tree, there is joy in knowing future generations will hopefully enjoy its fruits.
Any other thoughts you want to leave us with?
I already taken too much time!
Are referendums and direct democracy a positive? Yes. Not only do they bypass the now broken, slow and often corrupt system of representatives, but they truly do expose those who have nefarious ambitions, versus the selfless who want a better world. Although the establishment; legacy media, academia and Parliament have successfully dirtied the words "liberal", "conservative" and even "Brexit", do not let them dirty the word "referendum" and "democracy". The 2016 Ref has exposed many negative aspects within our society, exposed the bitter reality of how our representatives do not represent us and revealed their true colours, and exposed just how unconstitutional Parliament is by defying the Rule of Law. The answer is not less referendums/direct democracy but more, and allow us as individuals to take our nation into prosperity and have personal stake in how our society operates via individual liberty. Don't let government do it for you, do it for yourself. As Ronald Reagan said: "Government is not the solution to your problems, government IS the problem."
Sean is on Facebook, and Twitter. London Libertarians can be found at https://www.facebook.com/londonlibertarians/.