By Mike Swadling
Our recent email bulletin started with the following statement: "We have heard once again that Croydon Council is declaring de facto bankruptcy. This will no doubt lead to more taxes and worse services for the people of Croydon. Regardless of whether you believe in a small, limited government (as we do) or believe the state should provide extensive support, Croydon Council is surely a salutary tale of why regardless of the overall scale, government should focus on doing less, better. Our council has ruined our town centre, lost tens of millions on commercial and residential property speculation, paid hundreds of thousands if not millions, subsidising entertainment for the few, all whilst reducing core services for the many. We needed them, the vulnerable people who rely on the service they provide, needed them, to do fewer things better."
In a sorry tale of déjà vu on the 22nd November Croydon Council again issued a Section 114 notice, declaring de facto bankruptcy. This is the 3rd such notice, starting in 2020, after which Croydon was granted a £120 million bailout loan by the government to balance the books.
The council is £1.6 billion in debt, with £47 million in annual debt repayment. In the councils Section 114 report they state "The conclusion is that, in order to balance its budget, Croydon needs to reduce its spending by £130m next financial year alone (before any council tax increase) which is simply untenable out of a net budget of some £300m."
In their Medium Term Financial Strategy report the council sets out the staggering amount of new Capitalisation Directions that may be required.

On these sums it is almost impossible to see how the council can meet its statutory requirements and save the funds necessary to balance the budget without additional help. Whatever the path forward for Croydon it must start with realistic budgeting and basic accounting skills. For some months, any Conservative councillor I have spoken with has been at pains to tell me the budget situation in Croydon is far worse than they expected. Of course, some of this is politics but when you look at the figures of budget corrections it's hard to disagree with the basic premise.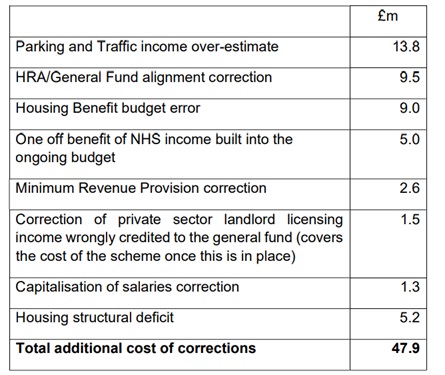 The level of over estimation of Parking and traffic income is clearly wrong, but unforgivable is the £9.5m a year that has been taken from the ring-fenced Housing Revenue Account (HRA). The BBC report notes "The HRA is only supposed to be used for the authority's social housing stock and it is from this account that maintenance and repair costs come for council homes. "What we've established is that there has been an overcharge of the HRA for several years,". This may sound like just an accounting issue, but this represents £9.5 million less for social services, libraries, local roads, swimming pools and other services. This one mistake represents an additional £63 needed from each of the 150,100 homes in Croydon. If this were the only mistake it might be forgivable but as the above table shows this is one of many. No wonder in 2020 the council's external auditors Grant Thornton described a council where "There has been collective corporate blindness to both the seriousness of the financial position and the urgency with which actions needed to be taken".
I was pleased to be able to recently speak to the TaxPayers' Alliance about some of the Council's misspending.
The council is taking steps to improve the situation. £90 million in savings have been made and £50 million of assets have been disposed of, with a further £100 million expected to be made in sales over the next few years. The Colonnades retail park is included in this, the council purchased the Colonnades hoping to make money but will no doubt end up with a quick sale whilst still holding the debt from making the original purchase. If only they had listened to those warning of this at the time.
Taxpayer funding of cultural events and community organisations by the council has finally reduced. This hasn't stopped the council being a sponsor of Croydon Pride yet again. A great day out, but one surely not needing funding from a bankrupt council.
More worryingly in 2023 Croydon becomes the London Borough of Culture. Funded by the Mayor of London, the "London Borough of Culture award aims to shine a light on the character and diversity of London's boroughs and bring culture to everyone". At the time of a cost of living crisis, unnecessary spending is already underway as the table below from the councils records shows.
| | | | | | |
| --- | --- | --- | --- | --- | --- |
| Payment Date | Vendor Name | Vendor Type | Cost Centre Description | Amount | Invoice Creation Date |
| 23-May-22 | Stanley Arts | Commercial | BOROUGH OF CULTURE | £3,000.00 | 25-Apr-22 |
| 23-May-22 | Stanley Arts | Commercial | BOROUGH OF CULTURE | £1,500.00 | 25-Apr-22 |
| 08-Jun-22 | Savvy Theatre | Commercial | BOROUGH OF CULTURE | £3,000.00 | 12-May-22 |
| 25-Jul-22 | Stanley Arts | Commercial | BOROUGH OF CULTURE | £75,000.00 | 27-Jun-22 |
| 20-Sep-22 | Fashion Meets Music Collective C.I.C. | Commercial | BOROUGH OF CULTURE | £50,000.00 | 07-Sep-22 |
| 28-Sep-22 | Savvy Theatre | Commercial | BOROUGH OF CULTURE | £10,000.00 | 07-Sep-22 |
The French Renaissance philosopher Michel de Montaigne noted "There is no more expensive thing than a free gift." With Croydon Councils record of misallocating funds, and run away spending, Croydon's, London's, and the nations taxpayers who are bailing out the council have plenty of reason to worry.
Croydon Mayor, Jason Perry has noted "Even with Government support, the coming years will be incredibly financially challenging for Croydon Council. We must balance our books and become a much smaller organisation." Maybe a good way to start would be for him to politely decline to waste more taxpayers cash on the London Borough of Culture award.