What We Can Learn From Sweden, South Korea and Japan For Fighting Covid In 2021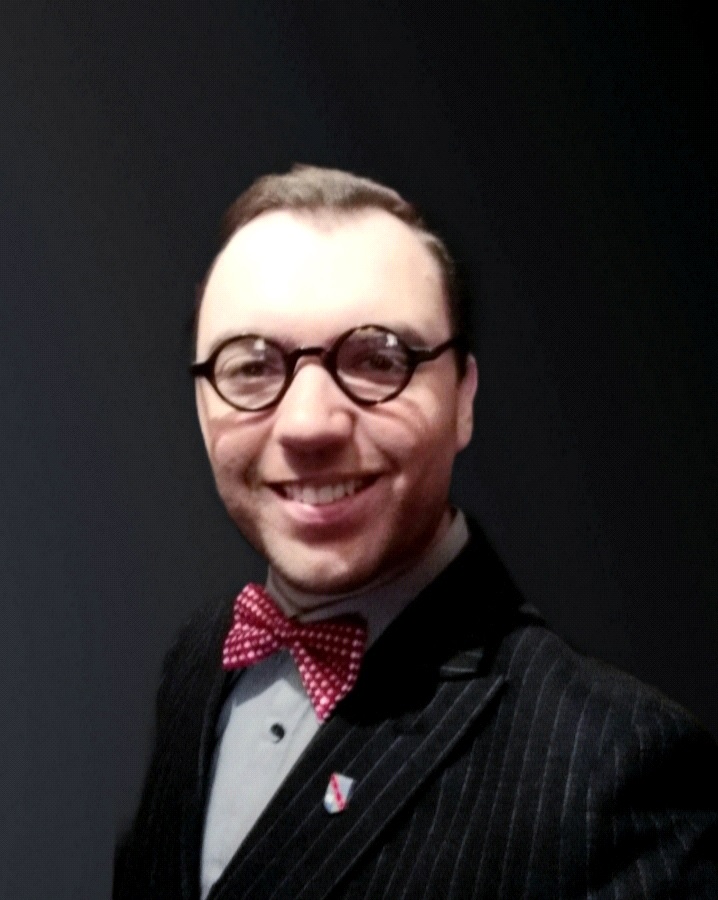 Opinion Piece by Josh L. Ascough
It is now roughly 9 months into the Coronavirus pandemic, and the United Kingdom has been placed into another national lockdown.
It seems to be the case that Einstein was right with his definition of insanity: "Doing the same thing over and over again while expecting different results"; by that definition, it's not just the UK to which insanity has overtaken; Italy, Spain, Germany, Australia and many other nations have taken the approach of trying to focus on cases, when this is a fool errand.
Due to the nature and the way in which Covid-19 spreads, everyone is going to get this virus at some point; just like how at some point, everyone is going to get the flu, a cold, chest infection, or any other form of virus that spreads person to person; but this does not mean everyone is at risk of dying from the virus, nor does it mean death from the virus is inevitable.
It is very similar to the boom/bust cycle and how the Keynesians wrongly view the bust as the problem, but ignore the boom; when it in fact is the artificial boom that should concern people, the bust is merely the inevitable effect; we've been trying to prevent the inevitable cases, to try and stop the preventable deaths; the way we should have been handling this virus, is to accept the inevitability of cases but have measures in place to prevent as many deaths as possible.
This does not mean people should actively seek to get the virus; unless they are not vulnerable and are looking to donate plasma, so further testing on anti-bodies can be done; but to not panic if cases rise or if you get this virus. Remember, we should be looking to reduce the preventable (deaths) not the inevitable (cases).
I want to address three countries in particular that have taken different approaches to fighting this virus compared to most "lockdown enthusiast" countries; namely Sweden (I can already hear the lockdown lovers screeching at that name), South Korea, and Japan. Before I get into that however, let us briefly go over what it is we, the United Kingdom did wrong.
Covid – What We Did Wrong.
On the 23rd of March 2020, the United Kingdom went into a national lockdown. In hindsight it was a terrible choice, but considering the healthcare system we have, it is understandable to have seen it as the only option on the table at the time. The purpose of the lockdown was simple (though it appears forgotten): We have a lockdown to spread out the cases and deaths, so as to not overwhelm the NHS to the point we have to make the choice of who lives via treatment, and who dies by neglect.
The UK currently, at the time of writing this on the 10th November 2020, has 1.23 million cases, and 49,770 deaths related to Covid-19 (key word being related. This has been a problem since the pandemic first began, where if someone contracts Covid-19 then dies from a car crash, they are marked as a Covid "related" death; not from, related). With a population of over 68 million and an elderly population close to 12 million, the case rate amounts to 1.8% of the population so far being infected, and out of the UK population 0.07% have Covid-19 "related" deaths, and out of the percentage that have been infected 4.04% have died; again, "related" to Covid-19.
The lockdown was never meant to stop deaths or cases, merely to spread out cases so we didn't have to neglect saving people. The problem is we did neglect people.
When the lockdown first came about, cancer treatments, diabetes treatments, and many others were cancelled to save room for Covid patients, so the idea of not neglecting people was a complete lie. The NHS did neglect its patients; it neglected to allow cancer patients to choose whether they wanted to go through with their treatment, taking into consideration the risk of Covid; the choice was made for them, that Covid was more dangerous and more deadly than their cancer. Sky News insultingly reported that roughly 1 million breast cancer screenings had been "missed" because of the pandemic. No, 1 million women didn't "miss" their screenings because of the pandemic; as if there was a choice, 1 million women had their cancer screenings cancelled for them; not by them, because the government decided it had the authority to decide which conditions were worth treatment…so we could save lives.
It is very anecdotal, but I've had many conversations on this subject, and the response is always, "well my uncle's friend has cancer and he was okay with his treatment being cancelled". My response to this is always: okay, but what if they weren't? What if they were more scared of their untreated cancer progressing and killing them? What about the people who aren't okay with their treatment being cancelled; whether it's cancer, diabetes, arthritis, or heart transplants?
The typical rhetoric against attempting to rationally consider the positions taken and use critical thinking skills is often the following:
"Well you just want people to die. You're selfish."
To that I say fine, we can play that game.
In the UK, there is likely to be at least as many if not more preventable Cancer deaths than Covid-19 deaths, because of the diversion of resources into Covid. Richard Sullivan, Professor of Cancer and Global Health at King's College London and Director for its Institute For Cancer Policy stated that:
"The number of deaths due to the disruption of cancer services is likely to outweigh the number of deaths from the Coronavirus itself. The cessation and delay of cancer care will cause considerable, avoidable suffering. Cancer screening services have stopped, which means we will miss our chance to catch many cancers when they are treatable and curable such as cervical, bowel and breast. When we do restart normal service delivery after the lockdown is lifted, the backlog of cases will be a huge challenge to the healthcare system."
On the 6th October Matt Hancock stated:
"Cancer Patients may only be guaranteed treatment if Covid-19 stays under control."
Even though the NHS was never overwhelmed, millions of cancer screenings were cancelled to "Protect the NHS" and to "Save Lives". If this is the crowd that claims to care about people's lives, and proclaim that sceptics of lockdowns are "selfish" and "want people to die"; I think it may be safe to say that pro lockdown individuals have some form of mental deficiency.
Let us turn to the countries I mentioned at the beginning; what exactly can we learn from them?
Let us first take a look at the now most hated country, Sweden.
Sweden holds a fairly small population of just over 10 million. Out of those 10 million, 162,000 have been infected with Covid-19, which equates at 1.6%, and out of the population 6057 have died, which is 0.05%; out of the percentage of people infected, 3.73% of those infected have died. This may still seem scary, but remember lockdowns only postpone current cases and don't do anything to prevent deaths overall, and these are deaths and cases overall so far. But if we expand the perspective a bit and look at the rates and the directions they have been moving in, Sweden is doing pretty well for itself. Sweden hit its peak death rate on April 15th at 115 deaths in one day, and just recently hit its cases peak on November 5th at 4766. Yet since April 15th when it had its peak death rate, Sweden's death rate has been drastically decreasing, and continues to do so, with its current death rate per day at the time of writing being 3, and it has been on low double digits to single digits; sometimes zero, since the 3rd July when it was at 8 deaths per day.
Sweden never had a lockdown, nor did it impose really any restrictions. The government took an advisory position for the elderly and other vulnerable people, with social and moral pressure for individual self-restraint and responsibility.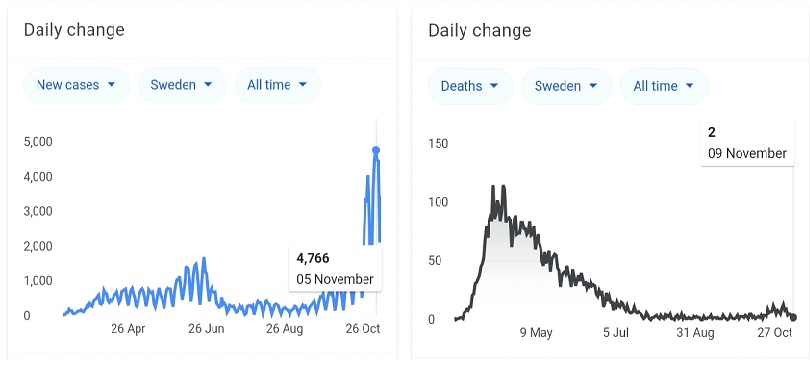 Japan is another success story.
Japan is home to a population of over 126 million people, and an elderly population of just over 36 million. Out of its population of 126 million, 110,000 people have been infected with Covid-19, which is 0.08%, and out of the population 1840 have died, equating to 0.001%; the percentage of people infected who have died is 1.6%.
Japan as well, never had a lockdown, though they took slightly stronger measures than Sweden did with regards to masks, and recommending shops close and vulnerable people isolate; these measures however apart from mandatory masks, were not legally punishable.
Japan hit its peak in cases back on the 3rd August when it reached 1,998 infections per day, and currently from the time of writing this, on the 10th November was at 899 infections per day. The death rate is equally impressive. Japan reached its peak death period on the 22nd April with 91 deaths per day; on the 10th November these deaths had dropped to 11 deaths, and has continued to stay at a stable, low double digit level since around mid-July.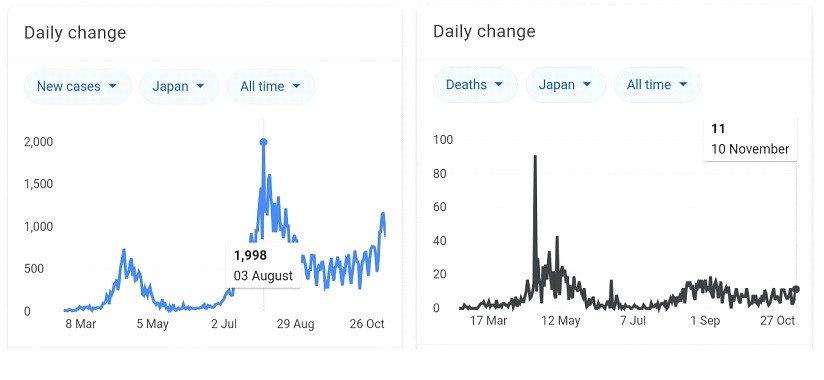 The last success story to mention is South Korea, which is most probably the closest to home in terms of population size overall and in terms of elderly population.
South Korea is home to just over 51 million people, and holds an elderly population size of roughly just over 7.6 million.
Out of its population of 51 million; at the time of writing this on the 10th November, 27,799 have been infected, which is 0.05%, and out of the population 487 have died, equating to 0.0009%; the percentage of people infected who have died is 1.7%.
South Korea, like the others mentioned, never had a lockdown. The nation did however hold very local restrictions in terms of isolation if infected.
There are a few additional pieces of information to give context to South Korea. Due to the wounds from the SARS virus still in people's minds, the general public was very cautious from the start of the pandemic. In addition South Korea has a predominantly private healthcare system, and so with the profit incentive being allowed to function, mass production of testing kits and ventilators were produced and sold; the market process quite literally saved lives.
South Korea hit its peak infection rate all the way back on the 1st March; where it was at 1062 cases per day. Since then it has seen a dramatic decrease in overall cases, where they dropped to double to single digits as early as April. It has since late August however seen a rise into triple digits, however this has been on a decline since the 1st September; the current case rate in South Korea; at the time of writing this, stands at 146 cases per day.
South Korea's death rate has remained impressive. the nation reached its peak in deaths on the 23rd March at 9 deaths per day, and began to see a decrease in April; South Korea has never exceeded single digit deaths per day throughout the pandemic. The current death rate in South Korea from the time of writing this, on the 10th November, stands at 2 per day.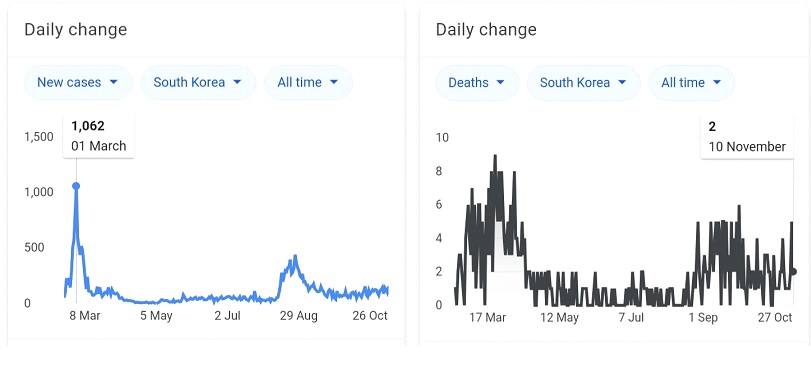 So what can we learn from these countries, and what can we do differently towards the coming new year?
These three nations; Sweden, South Korea and Japan have shown that it is not the case rate to be concerned with; it is the death rate. They have shown that lockdowns are ineffective and do nothing to curb overall deaths or cases, and merely postpone cases to a future time frame.
I'm sure there will be some mad raving lockdown loony, who will try to say I don't take the virus seriously; to which I say I do take it seriously. I live with a vulnerable person, and funnily enough I've made choices that aren't part of government "guidelines" which better suit my life and my circumstances; most of the time while travelling before the 2nd lockdown I took a taxi everywhere because it would limit who I had to interact with during my journey, meaning I could have better control of my situation.
What measures could be suggested that we take via influence from Sweden, Japan and South Korea? I believe the following would be the most pragmatic if we were to focus solely on preventing deaths rather than inevitable cases:
End the National Lockdown.
Localise decision making to local councils in terms of what restrictions they are to have in place based on demographics of age, medical vulnerability in relation to infection rate. For example if a local area has few elderly residents, few individuals who are medically vulnerable and a double digit infection rate, the local councils could set low restrictions. It would be similar to the tier system but on a much more localised scale, allowing local governments themselves to decide their own restrictions; not on their behalf by Whitehall.
Allow private establishments to choose whether to mandate mask wearing if they are capable of upholding social distancing.
Allow individuals who are consenting with one another to meet for gatherings unless they contradict with local measures.
Mandatory mask wearing in hospitals and care homes. These are vulnerable areas where people are seeking treatment.
Allow for the expansion in private companies producing and selling testing kits and allow individuals to purchase these kits outside of the NHS for home use. Allow businesses such as Boots, local pharmacies and such to sell these testing kits and correlate positive tests back to local hospitals and GP practices.
Allow for the expansion of businesses producing and selling ventilators and leave the decision of whether to purchase or not to local governments in correlation with hospitals within their region, with regards to their demographics of age, medical vulnerability and infection rate. This will ensure that we are not focussed on preventing cases but have the means in the local areas where they are needed to prevent as many deaths as possible.
Do not imprison residence in care homes. If the residence and their families would feel safer leaving the care homes to live with family, allow them to do so; do not make the same mistake of imprisoning care home residence to simply wait for death. In addition do not imprison students at university; if the students feel safer in returning home or staying, the choice should be theirs to make with advice from the student bodies.
Offer financial incentive to people who have tested positive to donate plasma so an expansion in testing on anti-bodies can occur; this should especially be encouraged among young adults.
 Allow private establishments to decide the maximum capacity in one group they will allow, in relation to whether they can uphold social distancing .
 Allow businesses and business owners themselves to decide whether to open or close. It is immoral for the government to decide who is essential and who is not; your livelihood is essential to you, it doesn't matter if a politician thinks otherwise.
 Allow patients to decide whether they want to take the risk of cancer and other treatments during the pandemic. It is completely abhorrent to allow the government to decide whether people should have treatment; that choice is to be made between patient and doctor alone.
The essence of these suggestions boils down to more decisions being made at the local level based on demographics, not one-size-fits-all approaches that may be needed in one location but are overboard in another. This approach allows individuals to make their own judgements of what is best for their circumstances, and what risks; if any, they are willing to make, while local governments who know their constituents better than the central government in Westminster to make the political choices and work with hospitals and the private sector for producing ventilators and testing kits. We've done the one size approach, and it has failed, we're trying it a second time, and it is still failing; the nations that didn't take a national lockdown approach; whether they took small measures of restrictions or no restrictions, they are showing success by having an ever declining death rate.
It is inevitable there will be people who say I'm being selfish for wanting to socialise with loved ones; but man is a social animal, and we know the mental and emotional effects prolonged isolation can have on people. If we are to believe that self-interest and selfishness are evil, what is more evil is believing everyone apart from yourself has to take responsibility for your health; the number one person responsible for your health, is you; not the man who decides to go drinking with friends, not the woman who wants to open up her small business to provide for herself, not the grandparents who nearing the end of their lives want to see their family and not be forced into isolation, and it is certainly not the responsibility of young people who have their whole lives ahead of them; who's progress we have halted by force; it is your health, your responsibility.
Life is about living, not simply existing and doing everything to remain "safe" so you can keep on simply existing. Yes, making choices to ensure you are safe from death is important; but the timeframe for living is very limited, and if you keep pushing that timeframe into a smaller and smaller margin, eventually it will expire, and sooner than you think.
– Sources –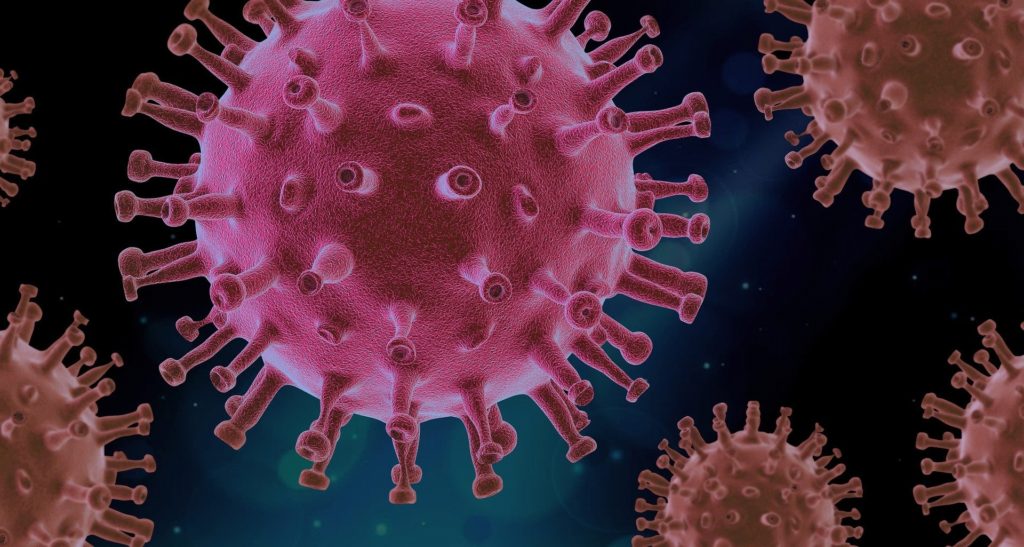 Image: https://pixabay.com/illustrations/virus-covid-science-covid19-4937553/