On December 1st the Coulsdon and Purley Debating Society debated the motion "This time next year life will be back to normal"
Mike Swadling opposed the debate, and below is his speech delivered to the society via Zoom. As always with this friendly group the debate was good natured, very well proposed and drew out some great views from the audience.
"This time next year life will be back to normal" – Opposing motion
What a year we have had, and expect to have for a good few months to come. We have lost too many people, lost too many freedoms, and will continue to suffer from the economic consequences and health care losses of lockdown.
Meanwhile new ways of living have become part of our new normal. Many people who had never held a conference call or video conference, now do so daily. Millions have worked from home all year.
The knock at the door of an Amazon delivery is now a familiar sound, and if you're lucky enough to get a slot, we have become used to home deliveries for our food shopping.
Now much, as I would like it to be so, I don't believe this time next year, life will be back to the old normal. Nor do I believe, we will be living fundamentally changed lives, but the way we live has seen a step change, and will continue to evolve.
First let me offer some hope, the pandemic levels of death ended in June, when death rates thankfully returned to the 5 year normal. Life with Covid became endemic. Predictions of a second waves of deaths have proved thankfully untrue, even as cases have risen. Treatments are getting better, the NHS was not overwhelmed at the peak, and won't be now. We also have the prospect of a multitude of vaccines to build up further immunity in the population. We can look forward to the future, where the true threat of Covid 19, is seen as no more serious than threat of a normal seasonal flu.
But the absence of Covid deaths does not mean an immediate return to a year ago. For instance let us look locally for examples of how things are changing.
Most of us have gone a year without visiting a department store. Debenhams in Croydon has closed, John Lewis, a flagship store for the new Westfield development, has closed its Purley Way outlet. Arcadia, which includes Topshop, Burton and Dorothy Perkins, based out in Valley Park is reported to be on the brink of collapse. The Westfield shopping centre unlikely to happen before the first lockdown, is now almost impossible to believe.
With retail on the life support from furlough schemes, it's hard to imagine the Whitgift centre ever truly reviving. No doubt we will see something new in our town centre, but online shopping has ensured it won't be the kind of all-encompassing retail centre, we have seen for all our lives.
Aside from retail, Croydon has been for many years a major office centre. These offices have now largely stood empty since March. Offices that cost millions to run are now being run from peoples spare rooms, dining tables or sofas. Why would a business want their staff to return, to reincur those costs?
Now I don't believe the world of work will fundamentally change so much we will never be back in the office. Distant relations work in part because we have built up trust and connections from having physically meet.
But I wouldn't overplay that fact, I like many now work with teams all over the globe, I have never meet the people I work with in the US, Malaysia, or Italy, yet we get on, we laugh and joke, and importantly we get the job done.
People are sociable, it would be handy to meet-up with my local colleagues from time to time. Frankly it would be good to get out of my house. I've not seen much evidence you can fully train people to do a job remotely. Some office jobs require a higher degree of physical interaction, and of course away from offices there is a whole world of world that requires a physical presence.
But what does this mean for Croydon?
Well my prediction, and hardly an original one, is that we will move from a world where many work from home 1-2 days a week, to a world where people go into the office say 1-4 days per month. Offices will have less desks and more meeting rooms and breakout spaces. I firmly suspect enterprising coffee shops will be adding 'work pods' you can hire to get together with a few co-workers.
What happens to the plethora of office blocks in central Croydon? Their use, can only reduce. What will we need? 80% of what we have today? 50% maybe, or even just 20%? I don't know, but I do know the twin engines of our town and indeed our city of Offices and Retail have both fundamentally changed.
Now what to do with all these office blocks? We are already building a large number of housing blocks in Croydon. Many people have concerns about this making Croydon a dormitory town, and that these homes are not suitable for families.
With people traveling to work less and working from home more, needing space in their homes, and dare I say it, maybe even a garden, these home are not suitable for todays' let alone tomorrows living requirements.
With a need for housing people will no doubt be cramped into converted office blocks, even with the problems that will bring.
This does however offer one possible future for the Whitgift Centre. Conversion to a much needed central park for those living in the new high rises around it.
Our town will not be the same this time next year, although I'm sure things will feel far better than today, they will be far from normal.
From the local changes let us look at some national changes. Great Frost of 1709 was the coldest European winter during the past 500 years. It caused widespread crop failure and economic devastation. We are now facing the worst economic failure since then. Let's just put that into some perspective.
In the intervening years we have faced Jacobite revolution, a global 7 Year war with Louis XV's France, fought in and lost the Americas, seen off Napoleon, fought two World Wars against Germany, seen massive economic changes with agricultural and industrial revolutions, introduced and repealed The Corn Laws, seen global economic depression in the 1930's, formed a Union with and given independence to Ireland. Gained and lost the world's largest ever Empire, Yet none of these lead to the economic crisis we now face.
To put it simply, Lockdown has caused more damage than the Luftwaffe.
The Office of Budget Responsibility forecasts the economy will shrink by 11.3% this year, and we will borrow £394bn the equivalent of 19% of GDP. We are in a hole, and with new tougher Tiers in place, we have just ordered new digging equipment.
We don't know how bad unemployment will be, how many shops will shut down, how much the transport industry will contract, or how little of the hospitality sector will remain after furlough ends, and economic realities kick in, but we do know it will be devastating.
Recovery from an economic shock this size won't come quick.
The income tax was first introduced in the Napoleonic Wars as a temporary measure and is still with us today. Blanket restrictions were applied to pub opening times during World War One, and left largely unchanged until 1988. Rationing stayed in place for 9 years after the end of the second world war, and we didn't pay off our war debts until 2006.
This economic shock is bigger than any of them. It will take far, far longer than a year to get us out of this hole.
We also see health consequences. Pre-lockdown a 1000 people a day were diagnosed with Cancer. That has largely stopped for the last 9 months. Many minor operations have been postponed and will become major operations. The consequences a year from now, of the shutting down of large parts of our health service don't bear contemplation. On top of that the coming unemployment and lost prosperity, is a health crisis of its own.
Worse than all this I believe, and likely to have far longer consequences, is our loss of freedom.
I hope you all agree, Everyone has following the rights
The right to liberty
To not be subjected to arbitrary interference with privacy or home
freedom of movement and residence within the borders of each state
freedom of religion; ….either alone or in community with others and in public or private
freedom of opinion and expression
freedom of peaceful assembly and association.
the right to work, and to free choice of employment
to freely participate in the cultural life of the community, to enjoy the arts
What I have read to you there are extracts of the Universal Declaration of Human Rights.
Articles 3, 5, 13, 18, 19, 20, 23 and 27, of which, are being broken right now by our government. This is not a partisan point, as our opposition parties are arguably even more enthusiastic about the Covid Laws
Since 1215 with Magna Carta, through the 1689 Bill of Rights, to universal suffrage, freedoms have been hard won. Those in power always want more, and by necessity will sacrifice your liberty to take it.
If you believe these freedoms, all these freedoms, will be back with us, and life will return to normal in a year from now, I have a bridge to sell you. Only under the current law I'm not allowed to trade, you're not allowed out to see the bridge, and shaking hands on a deal will see us both severely fined.
Some genies have escaped their bottle, and won't be put back. The economy will take many years to come back, the NHS will be dealing with the health consequences of this year for much of the next decade and who knows, when we will simply be allowed to do what we used to think of as normal interactions.
Life won't return to normal by this time next year, but we should do our damnedest to make it as normal as possible.
Summing up
It has become something of a cliché to say George Orwell's 1984, was meant as a warning of a dystopian future not a how to guide for government.
In the book criticism of the state is forbidden, there is no organised religion, you are under constant surveillance, and intimate relationships are strictly controlled.
We have no right to protest, the churches are closed, drones were following hill walkers and police ask you to report those breaking the rules, and government literally banned couples who live in separate houses from meeting up.
These will be temporary measures, just like we're still in last March's 3 week lockdown, to flatten the curve.
A year from now we will be in the midst of a very real economic crisis. Many shops, pubs and restaurants will be boarded up. Hotels will be closed, tourist attractions behind shutters. We will have empty offices being converted into the troubled high-rises of the future, and we likely see a massive reduction of choice of public transport. Things will not be normal.
The human spirt will however prevail. The economy will bounce back. We will push to regain our lost rights, or much like we are seeing in this lockdown, many will just ignore those in authority. Life will return to normal but it will be a struggle and one that sadly will take us well beyond next year.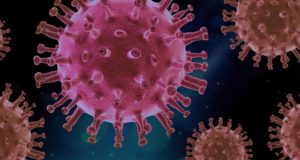 Image: https://pixabay.com/illustrations/virus-covid-science-covid19-4937553/
Article in January 2021 CR5 Magazine https://cr5.co.uk