It could take 1,800 years for the UK to add 1ppm of CO2 to the global total. Bear that in mind when you realise that even doubling the global CO2 from 400ppm to 800ppm has very little effect on global warming!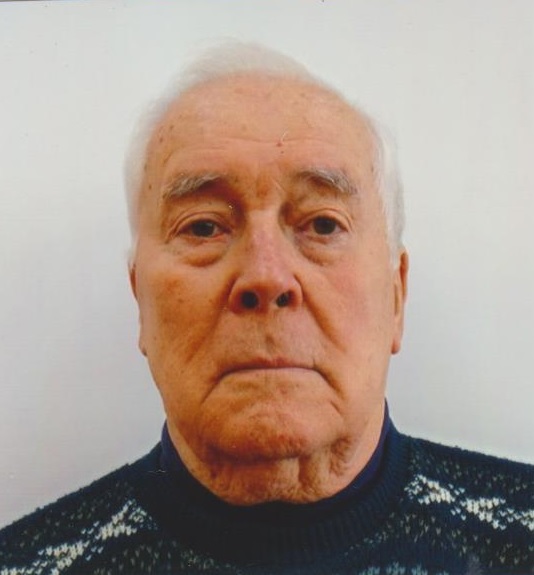 By Jerry Wraith
The AGW (anthropogenic global warming) claims for causing Climate Change are continually being promoted by many institutions, including the IPCC, the media, (BBC, Sky TV, The Guardian for example), and politicians. The UK is being subjected to crippling costs due to scrapping coal fired power stations (at the EU's demand) and trying to replace them with renewable forms of energy. This is costing a fortune for UK taxpayers as renewables are unreliable, very expensive and demand huge subsidies. They also demand reliable back-up systems when the "wind don't blow" and "the sun don't shine"! In addition, our petrol and diesel fuelled cars are being banned in favour of EV's which again raise horrendous operational problems.
The figures below are copied from a lecture given by Dr Tom Sheahan:
(Full Lecture)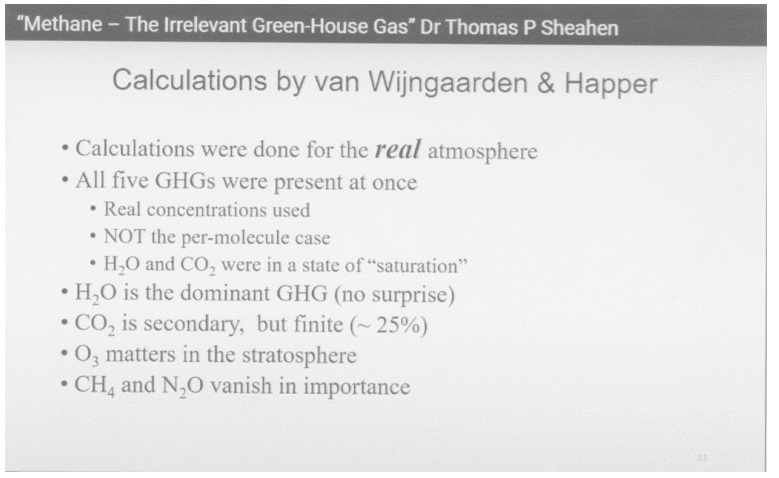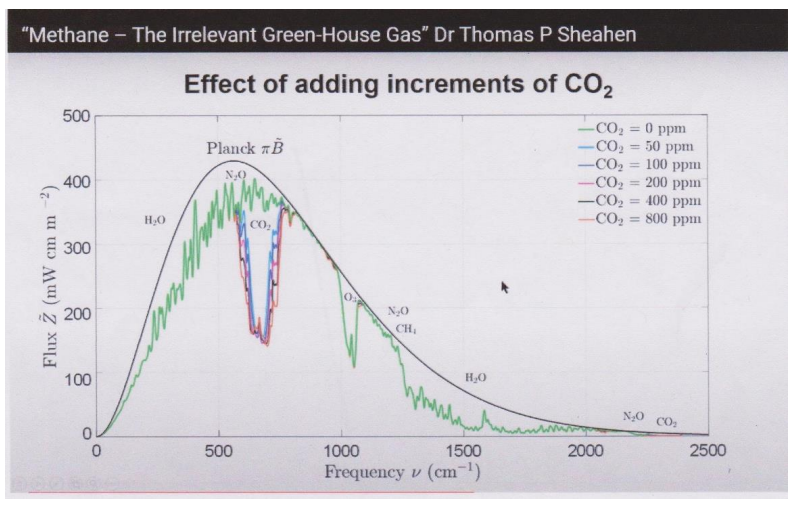 The graph above shows that increasing CO2 levels from 50ppm to 800ppm has very little effect on global warming. The graph below defines the effect on global warming due to increasing levels of CO2 more clearly. The most significant points are the warming effect of CO2 at the pre-industrial level of 300ppm to the warming effect at today's level of about 400ppm is practically indiscernible. This proves beyond any doubt that increasing CO2 by 100ppm has an imperceptible effect on increasing earth's temperature.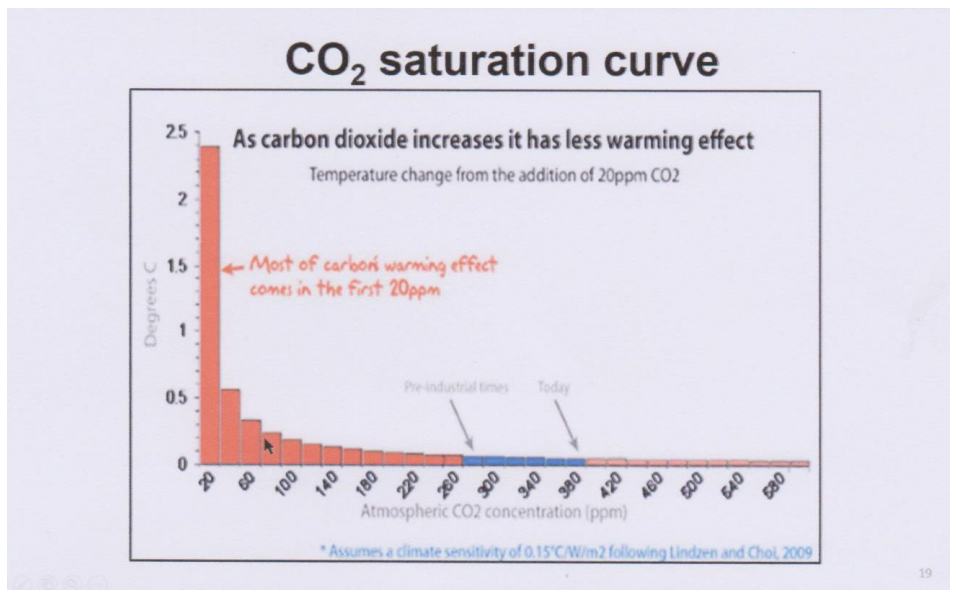 The above graph is based on calculations by van Wijngaarden and Happer. Their calculations are compared to real measurements as shown in the graph below.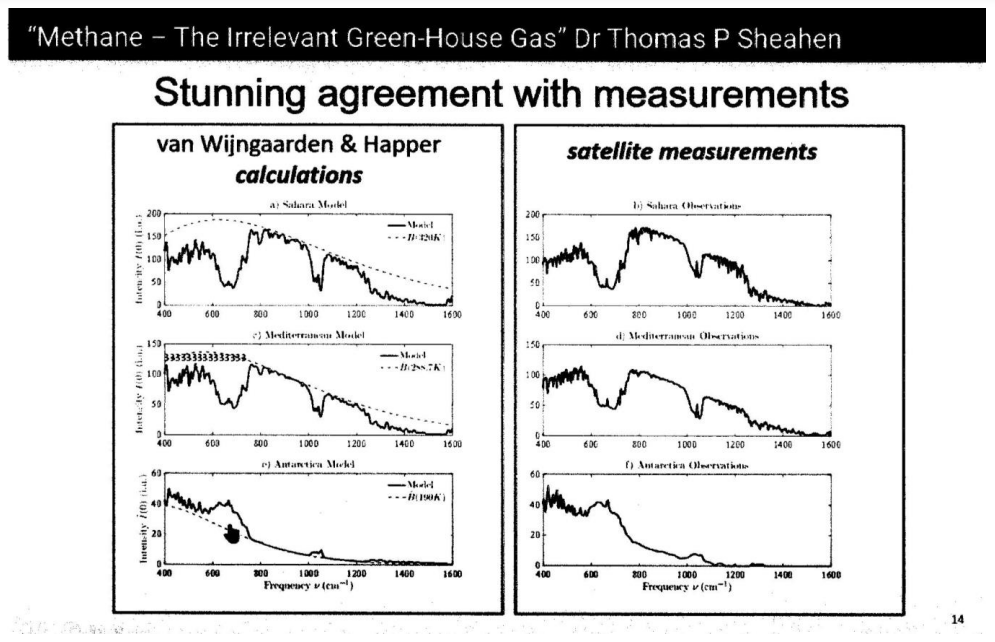 NOW look at the graph below, comparing IPCC calculations with measured results (copied from "There Is No Climate Crisis" by David Craig, published by The Original Book Company in 2021.)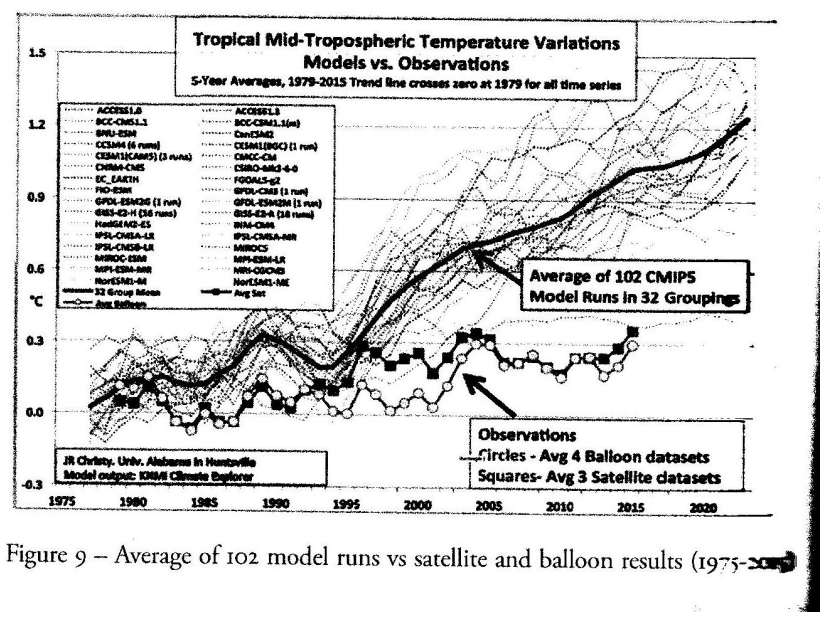 This clearly proves that the IPCC climate models are grossly inaccurate as their calculated global temperature rise, due to increasing CO2, is over 3 to 5 times, average 3.5 times) the actual recorded results. The IPCC is therefore a completely disreputable organisation and must be completely ignored. This has been confirmed by Professor Chris Holland of the Hadley Centre for Climate Prediction and Research who said:
"The data doesn't matter. We are not basing our recommendations on the data. We are basing them on the climate models."
In addition, Ottmar Edenhofer, previous Co-Chairman of the IPCC Working Group 111 "Mitigation of Climate Change" has apparently also completely destroyed the case for AGW by saying:
"First of all, developed countries have basically expropriated the atmosphere of the world community. But one must say clearly that we redistribute de facto the world's wealth by climate policy. Obviously, the owners of coal and oil will not be enthusiastic about this. One has to free oneself from the illusion that international climate policy is environmental policy. This has almost nothing to do with environmental policy anymore." (My highlighting.)
The UK's contribution to increasing CO2 can be estimated as follows:
Here's a chart of atmospheric CO2 levels: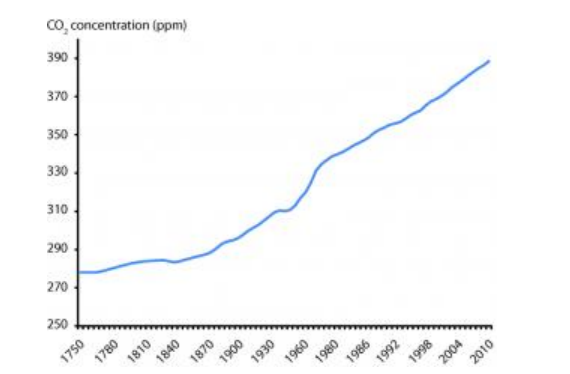 This shows that in 1980 global CO2 was 330ppm. This increased to 390ppm in 2010. This means that global CO2 increased by 55ppm in 30 years, or by 55/30 = 1.8ppm/year of which humans provided 3% or 0.055ppm/year. The UK is generally recognised as providing only 1% of the total human contribution to CO2 or 1/100 x 0.055 = 0.00055ppm/annum.
Hence to ADD 1ppm to the global CO2 total will take the UK 1/0.00055 or 1,800 YEARS!
For this our politicians are ruining the economy of the UK for a TOTALLY WORTHLESS EXERCISE. Made much worse by the FACT that CO2 has a trivially negligible effect on global warming at these concentrations!
Finally, it should be noted that NASA admitted that CO2 has a negligible effect on climate warming. See the Natural News article by Ethan Huff, dated Fri, 30 Aug 2019.
SO
are you going to believe calculations based on the real facts which give good results with the real world,
OR
are you going to believe IPCC calculations, which are artificially produced and bear little or no relation to the real world to bolster their politically motivated case that increasing man made CO2 is having a catastrophic warming effect on the earth's climate?
COMMENTS
1 Talking of reparations for third world countries is a ridiculously ludicrous idea as any increase in the worlds CO2 due to our industrial revolution has a vanishingly small effect on global warming.
2 Promoting Climate Change (meaning AGW induced Climate Change) is totally FAKE propaganda. As confirmed in the quotes above.
3 Using CO2 levels to debate Climate Change is a worthless exercise as CO2 makes a vanishingly small effect on global warming. Especially, as the UK produces only 1% of the world's 3% annual human production of CO2. YET the stupid Department for Business, Energy & Industrial Strategy "provided £1,173,666.21 (excl. VAT) of taxpayer's money to the contractor responsible for delivering the ongoing UK Greenhouse Gas Inventory for the 2021/2022 financial year. The outputs of this work included providing the data for the 2020 "UK Greenhouse Gas Emissions Report, and a number of other products". What a colossal waste of taxpayers' money!
4 REDUCING CO2 IS PROBABLY HAVING THE OPPOSITE EFFECT TO THAT REQUIRED FOR THE WORLDS POPULATION! IF CO2 LEVEL GETS TOO LOW ALL WORLD VEGETATION WILL DIE AND MANKIND WITH IT! MORE CO2 INCREASES WORLD GREENING AND PLANT GROWTH! (Proven by satellite observations and greenhouse use of CO2.
5 Dr Sheahan also makes the point that Methane, CH4 and Nitrous Oxide, N2O are also insignificant with regard to global warming and even less effective than the vanishingly small effect of CO2.
6 Earth's climate is changing and has always changed, but this has virtually nothing to do with CO2 which is a trace gas in the earth's atmosphere. The climate changes are due to the sun and the earths eccentric orbit round the sun. See the article "The woman who could cancel net zero" by Iain Hunter in The Conservative Woman, Dec 22, 2022.
7 The true purpose of the IPCC is to transfer wealth from developed nations to undeveloped nations and form a global government. (The campaign about CO2 is just a smoke screen. Whether CO2 can warm the atmosphere is irrelevant.) The plan was allegedly set out in clause 38 of the draft treaty put to the IPCC conference in Copenhagen 2009. It stated that the new global government will have three basic pillars: Government; Facilitative Mechanism; and Financial Mechanism. It will be ruled by the Conference of the Parties (IPCC) and managed by the support staff of the IPCC.
CONCLUSION It is astonishing that UK politicians, now paid £84,144/annum + expenses, by UK taxpayers are
SO INCREDIBLY DECEITFUL
as to base policy, costing UK taxpayers £trillions and ruining the economy of the UK, on eliminating a problem THAT DOES NOT EXIST! The IPCC is clearly a political project, not a technical one, therefore politicians and councillors, must pay the price. So, the UK taxpayers must be given the opportunity to vote on whether they want the UK economy, and their personal well being destroyed for the purposes of this global government.