Always keen to support people in Croydon prepared to support democracy and Brexit. The Croydon Constitutionalists spoke with Donald Ekekhomen, the Conservative Party Candidate for Croydon North.
On Donald's twitter account he describes himself as a Conservative, Pharmacist, Entrepreneur. Christian, keen on positive community action, and a Crystal Palace fan. He stood in Waddon for the Conservatives in the 2018 local elections in what was widely recognised as a hard fought campaign.
Croydon North is currently held by anti-democracy MP Steve Reed OBE.
Donald thank-you for your time.
What led to you being picked as the candidate for Croydon North?
After the disappointment of the last local elections, it's terrible to see the devastation that Croydon's Labour Council continues to do to our local communities. At the same time, there is the increase in stabbings in Croydon that's very worrying. Everyone I talk to in church, work or at football are always talking about this. It's causing a lot of uneasiness in the community with parents afraid for their teenage children. That prompted me to avail myself of the rigorous screening process to be the Conservative candidate for Croydon North.
What first got you into politics.
I am an immigrant who came to the UK to study and got a job on completion of my studies to provide NHS pharmaceutical services as a pharmacist. As one who works in a lot of pharmacies as a locum in and around Croydon, I get to participate in conversations about governance, taxes etc. In one of these conversations, a pharmacy owner explained to me activities that led her to open her pharmacy. She said that she was able to get the local MP at the time to help officially open the premises. Now that might seem normal but to someone who has lived through an authoritarian regime, that was exceptional by the MP and his office. It simply says the MP is concerned about the welfare of his constituents and cares enough to help them fulfil their aspirations. That MP was Gavin Barwell; the erstwhile Conservative MP for Croydon Central.
In my job and through voluntary activities, it is clear that there are lots of issues facing local people; education, school expulsion, NHS, housing, immigration, crime, jobs etc and I believe being part of a political party will help me try to resolve these issues by enacting laws and lobbying government in order to make a difference to the lives of these people and more.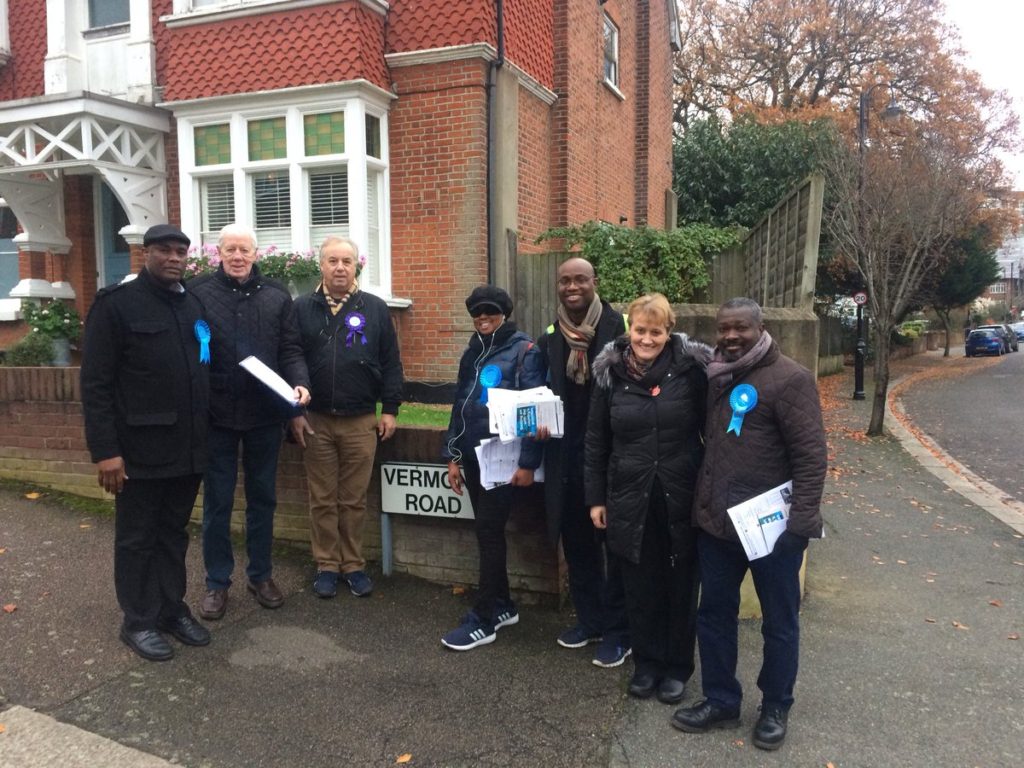 Any story from Waddon or other campaign trails that have stuck in your memory?
While on the campaign trail, a lot of things really excited me, gave me a buzz. People are deeply concerned about their local environment and are willing to do what they can to protect it. However, a particular incident remains in my memory: during our campaign there was an old church hall that already had a planning application submitted to convert it to blocks of residential flats. However, this old church had provided valuable service to the community as it is used as a nursery space for young children and on weekends, used as a place for meetings and parties/celebrations for locals. It forms the nucleus of the community and also retains the old architecture which celebrates the history of the place and in consonance with other buildings in the area. When I went canvassing in the area, it was the most important issue for residents but they needed help and advice on how to oppose it. We sprung to action and helped the residents oppose the planning application using dexterity and with the knowledge of how to do this. Eventually, this was stopped and the building was saved. The joy on the faces of the residents when we went back was a sight to behold. I felt happy to have been a part of this process: making people smile, happy and comfortable in their local environment. Having them believe that someone is there to help when they are challenged is a very powerful statement of confidence in our community and abilities.
What is your favourite Crystal Palace memory?
I love sports especially football and know it is an important part of keeping our physical and mental health in the best shape especially now with how fast and complex our lives are. It is a tool for creating firm structure for young people to learn about discipline, respect and teamwork while improving their social skills, friendships and broadening their aspirations.
The FA cup final in 2016 is one I still think about today. The run to the final was exceptional and the team did this with real determination while scraping through some games. I felt that was a given and that gut feeling was consolidated when Jason Puncheon scored the first goal in the final. That was the most delirious I have ever been!!!
It was disappointing the team lost eventually but they showed really courage; working together, challenging every ball and giving it their all. I was very proud of the boys!!
Crystal Palace football club is involved in a lot of wonderful local projects for poor communities which help disadvantaged locals to get on in life. Some of these partnerships I am involved with as a trustee. This off the field activity is awesome.
What are your thoughts on Croydon politics?
Croydon politics is in a terrible state currently. Where do I start!
We have a group of Labour Party councillors running the council and not delivering on their last local election promises. The Labour council do not collect bins weekly as promised, they do not listen to residents' complaints but rather make it difficult for residents to pass on their legitimate concerns. Council chamber question time is fraught with verbose replies, residents only have 30 minutes to ask questions during full council meetings that sit just a few times in the year!!! How is that listening to the residents?
This is your first time as a parliamentary candidate, has anything come as a surprise from making that step?
I always expected it to be intense, changing its course almost every other day with changing campaign priorities. However, the amount of energy needed to keep on the campaign trail and answer emails from a lot of people who expect responses very quickly, has been enormous. Regardless, I am enjoying every bit of it especially meeting people on their doorsteps and talking to them about their concerns and priorities.
If you introduce or repeal three laws (other than Brexit), what would they be?
Reducing the number of suspended sentences given to people who commit serious crime to three and increasing the length of their stay in prison. I would go further to make serious offenders serve three quarters of their term before they are due for parole. The current system of offenders getting up to five suspended sentences could be too lenient and doesn't feel like justice for the victims of crime. The Conservative government is investing in the prison services to train, educate and give ex-offenders the skills needed to be more productive in the wider society which is the duty of any responsible government.
More investment in schools in line with inflation to help recruit and train more teachers. Teachers that will spend more time with disruptive youngsters and help improve their chances at learning to attain a degree at university, get into apprenticeships or learn other job skillsets. This will help to reduce exclusions, foster cohesion and improve life chances of disadvantaged young people. On the societal scale it will help reduce crime, help with social mobility and improve positive community participation. Currently, the Government has promised increased funding per pupil in schools and has been doing that for over 10 years, incrementally. This is an indication that it is taking it seriously but much more will be greatly appreciated.
The Help to Buy scheme has seen record numbers of people and young families being able to afford a home. I want to see such schemes encouraged further and expanded to help a lot more people get onto the property ladder.
Any other thoughts you want to leave us with?
The UK is currently the second best country in Europe for business start-ups. I would want the current government fund provision for tech start-ups to continue into the post Brexit years ahead. It is vital that we encourage people with digital intelligence to continue to contribute to the digital space and create the next Facebook, Google or Amazon of this world.
Donald thank-you for the interview.
Donald can be found on Twitter at https://twitter.com/donaldekekhomen.