The Social Democratic Party (SDP) is standing candidates across London in May's local elections. We spoke with Les Beaumont who is standing for them in the Pitshanger Ward, London Borough of Ealing.
Les thank-you for your time.
Tell us a bit about yourself and your party?
I joined the SDP a couple of years ago, shortly after I sold my contract cleaning business and retired. I live in the ward in which I am standing for local councillor. Free from vested interests, the Social Democratic Party seeks the common good in Britain's national interest. We represent neither capital nor labour, not private industry nor the public sector, but only the welfare of the British people and residents of these islands.
You're standing in the Pitshanger Ward, can you introduce the ward to us and what you can bring to the area?
The ward is predominately made up of owner-occupied and privately rented properties with a social housing estate on its western border. As a local resident with no allegiance to the three largest parties, my objective would be to ensure that the council addresses the issues of the people that I represent, be they property owners, private tenants or living in social housing.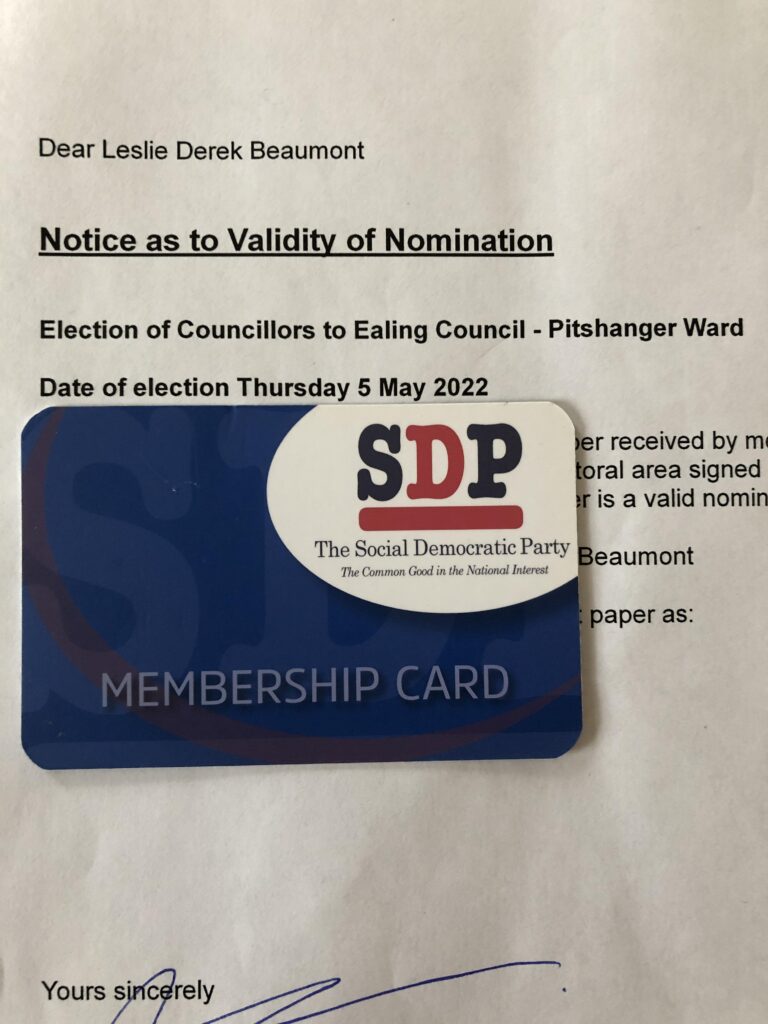 More widely what would you like to see change at Ealing Council and across the borough?
When I speak to people in my local area, these are the main issues most frequently raised:
a) Overdevelopment. Ealing Council has approved and continues to approve, planning applications for high-rise developments that are totally inappropriate to the local area. Some local people say that Ealing Labour councillors appear to have too close a relationship with the main housing developers in the borough.
b) Fly-Tipping. It is far too difficult and expensive to dispose of waste in the borough and the council closed one of its two waste & recycling centres last year.
c) Car Crime. There is an epidemic of catalytic converter theft in the borough.
d) Swimming Pools. Ealing Council closed our local swimming pool during the pandemic and then failed to re-open it with the intention of redeveloping the site with massive high-rise tower blocks.
e) Council Waste. Like many boroughs controlled by Labour, Ealing Council wastes a lot of money on schemes introduced for ideological or party-political reasons that do not benefit the majority of the community.
How can people find out more or get in touch if they want to get involved?
The SDP website is the major resource for our policies and to find out what we stand for. You can also follow the SDP on Facebook and the London branch on Twitter.