Mary Lawes is a Councillor for the Folkestone Harbour Ward of Folkestone Town Council retaining her seat at the last election. Mary a founding member of the Foundation Party a pro-Brexit party that promotes freedom of opportunity for individual self-advancement, free markets for businesses, freedom for citizens to more adequately hold politicians to account, and the unrestricted freedom of speech.
Mary thanks for your time.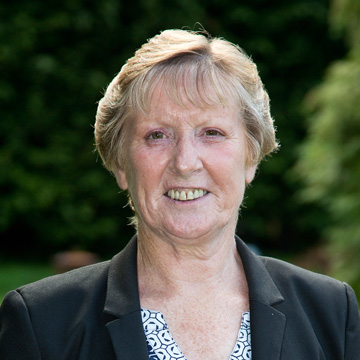 You have been a Councillor for almost 5 years, tell us about your area and what it's like being a councillor?
My ward is the third most deprived area in the district of Folkestone and Hythe. It nestles in the most wonderful environment by the sea. My ward is based around Folkestone Harbour and the Warren. The ward is kind of split in two where we have areas of poor quality council and private housing on one side, the other side is private family housing. Within my community are a number of community groups which bring us all together as one. There are many diverse issues as a councillor, with some hard to deal with and other that are very rewarding. I am very determined and passionate about my work with and for the community.
What are the big challenges facing Folkestone, what's going well and what needs help in the town?
The big challenges facing Folkestone, are health, housing, employment and drugs. Over the last 10 years private housing has been built on a vast scale, but are the wrong type of housing and are way beyond the majority of residents means. Locally most, of our high streets are diminishing. The consequences at present are that they have created working poor. With the major chains leaving the high street, this has left low paid jobs like restaurants, pound shops and call centres. The landscape has changed drastically with the seafront development and the creative quarter (arts). Lots of people have moved down to Folkestone mainly from London. Together these have put Folkestone and the harbour area on the map. But unfortunately this has done nothing to help the locals who are being squeezed out by the ever increasing property values.
You are a founding member of the Foundation Party. What made you get involved and what do you see as the key principles and purpose of the party?
I was a member of UKIP up until 2018. I felt UKIP was going in a different direction at that time. It was not a direction I believed in or wished to pursue. I felt that the main parties did not speak for me and found parliament were not listening to the people. I felt that parliament seemed totally out of touch with the people as regards its membership of the EU. I had worked with Chris Mendes our leader and the other founding members of Foundation Party in UKIP, and had formed a good bond with them. In your introduction, you have stated our parties main priorities. Our key priorities are empowering the individuals, families and community. For example, we want to devolve power from parliament to communities. Communities must be able to plan how their own communities evolve, grow and prosper while keeping the environment safe, healthy and inclusive.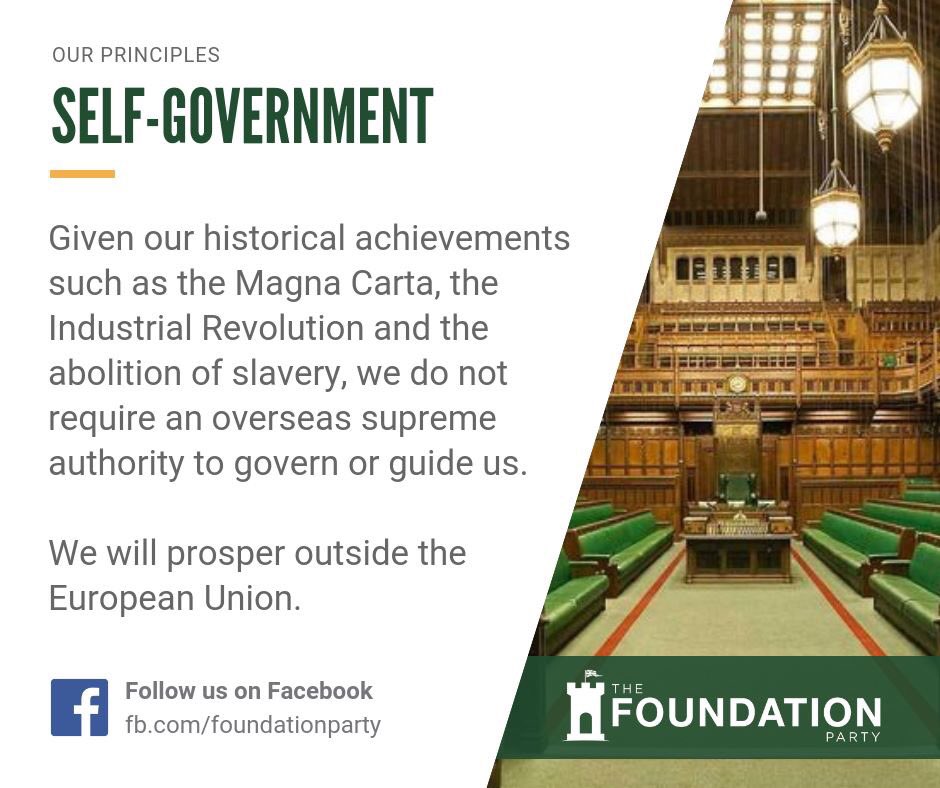 We have now left the EU and are now in the transition period. Do you expect us to get a free trade deal with the EU, and what policies do you hope are pursued once we are fully out of the EU?
We have left the EU but I have concerns about the type of transition deals that are still to be agreed. I sincerely hope that there are no delays to the transition period. The major upheaval of the last four years in our parliament and the monumental win for conservatives on 12 December 2019. The Conservatives taking vast amounts of votes off Labour voters was a tidal wave in politics. I do expect the UK to get a free trade deal with the EU when we leave. Even more so since the coronavirus pandemic was called. The 27 EU countries have closed their borders and turned to national safe guarding following those in Brussels reluctant to help. Free Trade will benefit both sides of the deal and will allow Europe and ourselves to work together. There is a close bond and Europeans are our friends, families and colleagues.
We are in the period of the Covid-19 crisis. What are your thoughts on how this has been handled so far?
I have a mixed opinion of the government's handling of the pandemic. They came straight out and seemed like they had a good handle on the situation. They straightway started talking about throwing large amounts of money at the problem. Then the cracks started showing. Insufficient PPE for front line staff, insufficient ventilators and funding for furlough staff not getting through quick enough. The longer our economy is on hold the harder it will be when it does start up. The economic impact and implications are going to hit the country very hard. The lockdown has been hard on people yet necessary to reduce the spread. I however do not believe the police have responded very well. They have been heavy handed in their approach and have not followed the guidelines. Giving police too much power can be a dangerous thing, especially when laws have not be approved and no proper scrutiny has taken place. This Covid-19 is unprecedented and different to anything we know. I will for now support the government but will continue to criticise, if I feel free speech and our civil rights get eroded any further.
The implications from Covid-19 could be wide reaching. Less tax collection, not enough employers, not enough big employers, insufficient employment and severe lack of the voluntary sector. The government and business must not be allowed to see this crisis as an opportunity to reduce wages and must protect civil liberties. The voluntary sector was mostly made up of retired volunteers. There could be a vast shortage going forward. Over the last forty years the voluntary sector have taken up the slack for numerous areas the government and councils have stopped providing. The voluntary sector have had to take up the slack for mental health, food banks, hospital service for patients nursery and early learning and other areas. Society will face problems, if these areas are not in place.
Once this current crisis is finally over what do you think may have changed and what do you think the government should focus on to aid the recovery?
Obviously the first thing that must be done is to get the economy going again. Employment will be a top priority. Massive investment to create industry once again in our country. This crisis has shown how much we rely on other countries to provide us with for example ventilators, PPE and food. We must as a country going forward be able to stand on our own two feet. We must not be beholding to others outside of the UK who can control what we get and how much we get. This country was known the world over for its innovation and creativity. We then became a service industry and lost our fishing and farming rights. This must be reversed once we are fully out of EU.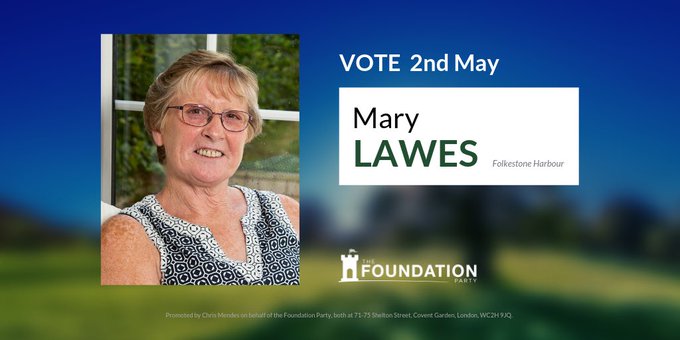 You have stood in a number of elections for UKIP and the Foundation party. Do you have any funny or memorable tales from the campaign trail?
I can say that the campaigns I have been involved in, certainly brings you to the reality of what you have taken on. I never planned to be a councillor, it kind of happened when I joined UKIP. My colleague had a mobile trailer for advertising which he said we could use during a campaign. So we had a trailer with a high board with an enlarge size poster, which had our faces on. We had so many people contacting us laughing saying they had seen us in Herne Bay or Stone Street or Canterbury. The driver lived in these communities and did not cover or change the board while going home. It became a joke as to where the trailer may appear next in Kent.
Your party is now focusing on the 2021 (which will include the 2020) local elections. What's you sales pitch to our readers on why people should vote, campaign, join or even run for you?
'The people are the masters not the servants'. We want the people to be in charge of their own destinations . We believe in people and want to empower them. We are listening to what our communities want. I am standing for Kent County Council Election next year. On our website we set out our priorities in areas that will affect local communities such as education, health, crime and justice, transport and the environment. I am very proactive in my community where I live. Myself and the Foundation Party will represent the people to the best of our ability and will always put them first.
Mary can be contacted by email at [email protected] is on Twitter at https://twitter.com/Mary_Lawes and can be found on Facebook at https://www.facebook.com/cllrmarylawes/.
If you're interested in finding out more about the Foundation Party you can read our interview or listen to our podcast with the Party Leader Chris Mendes.