During the general election we interviewed local pro-Brexit candidates. Following on from this we asked the candidates how they found the election and for any thoughts they had from the campaign.
Below is the update written by Councillor Mario Creatura the Conservative Party candidate for Croydon Central. Mario's original interview is available here.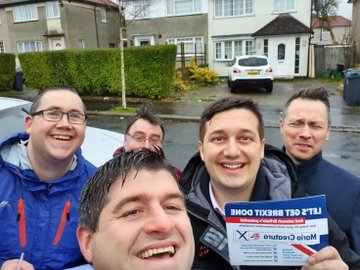 In December 2018 I was lucky enough to be chosen to be the Conservative candidate for Croydon Central. At the election on 12th December, 21,175 people in my hometown chose to put their faith in me – I am sorry that it was not enough, but I will be forever grateful to every one of them.
It's been an incredible year. Over the campaign my team and I have spoken to many thousands and ran a positive, energetic campaign. We highlighted vital local issues, like Labour's plans to build on the green belt and their wanton destruction of community identities, as well as fighting to respect the result of the Brexit referendum and shining a spotlight on Labour's illiterate economic policies. I am truly proud of the way my party behaved during the campaign.
Across the UK so many unbelievably talented Conservative friends have been elected – particularly those from blue collar backgrounds breaking through the so-called 'red wall' in the Midlands and the North of England. Our Parliament is lucky to have each and every one of them. It was the greatest result for the Conservatives since 1983, and the worst performance by Labour since 1935. We now have five years of stable national government, one that means we can finally get Brexit done and move on with our lives.
In Croydon, it's well worth looking at the results of the two 'safe seats'. Chris Philp's majority went up in Croydon South, a testament to his incredible work ethic and stamina. Steve Reed's majority was slashed by a massive 8,000 votes. The start of a worrying trend for Labour in London? If I were Croydon Labour, I would be very concerned about what this means on a local level for the 2022 Council elections.
For every candidate standing for election there are dozens, if not hundreds of passionate party volunteers helping our democracy to function. Every leaflet delivered, every street pounded and door knocked – it's a huge team effort and they are all doing it out of love for their party, community and country. It takes a lot, particularly in the cold winter months, to forgo spending time with your loved ones and to instead pull on a waterproof and try to campaign in an election. I'm grateful to each and every one of them.
One thing all political campaigners will hear on the doorsteps repeated time and time and again: "we only see you out at election time". It's one of the most frustrating things to be accused of – of not caring about our community enough to be out all the time, not least because it's just not true! There are some 47,000 properties in Croydon Central. If a single volunteer can knock on 100 doors in a given canvassing session, around 2/3s of people will be out. Which means each activist might get to speak to 30 people a week. There are 81,000 electors in Croydon Central alone – so it takes years to get around everyone once, which is why it feels like you only see us at election time.
So here's my plea to everyone reading this: if you are upset by the result of the election in Croydon, if you want to get Labour out of Croydon Town Hall in 2022, then don't sit at home complaining – get involved with the Croydon Conservatives and help us do something about it. We need good people to stand to be local councillors. We need talented locals to help us build a machine to take the fight to Labour over the next few years. We need bright, passionate members of our community to get stuck in any number of different roles and activities.
If you would like to find out more, then get in touch by emailing [email protected] and I'd be happy to meet to explain more about what it might involved – there's something for everyone!
Croydon is my home town. It's where I was born and where I live with my wife. I'm still a serving councillor and I'm not going anywhere. Croydon has so much potential just waiting to be unleashed – get in touch and let's make it happen!